Why Agile Learning – Eucom's latest language learning solution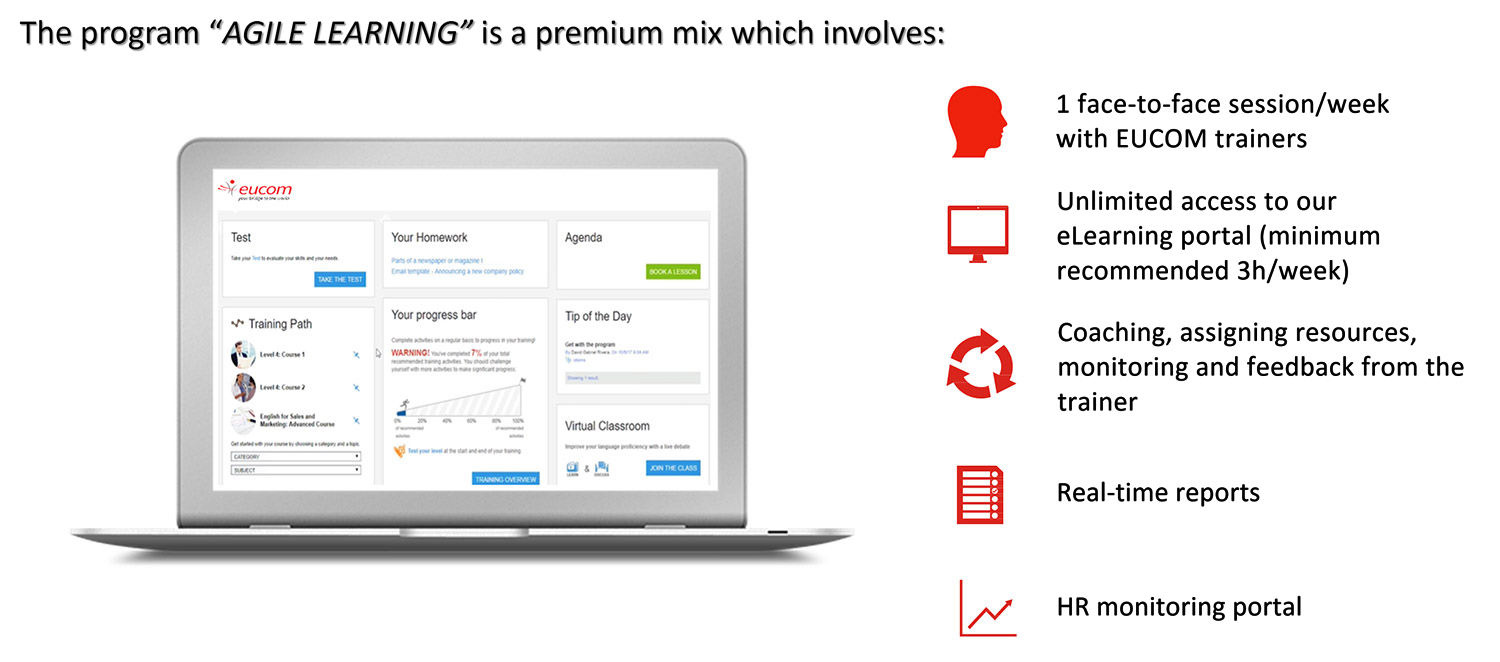 Recent studies have shown that the best solution to adopt when it comes to language trainings within the multinational environment is the Agile Learning system (1 face to face session /week + daily monitored access to our Agile Portal).
Retaining knowledge and using it for promoting and improving the company has always been a real challenge. Nowadays, we have the chance to benefit from the latest information which is available through websites, social platforms, internal trainings or training platforms. In most of the cases, trainings are a form of development for a specific purpose.
EUCOM has taken the next step towards innovation and progress for companies through language courses in the Agile Learning system. Famous companies in Bucharest, Timisoara, Arad or Iasi have already benefited from our Agile Learning trainings.
What's in it for you?
Are you a company? Then you will have:
Lesser time spent by your employees on F2F trainings and more time available for work related projects/tasks for your employees;
Accelerated improvement of your employees' language levels;
Ability to check the progress of your employees remotely, on our digital platform;
Weekly reports regarding the evolution of the trainings.
More developed employees = more satisfied employees
Are you a learner? Reasons to choose the Agile Learning Program:
Opportunity to develop your language skills and career;
Once a week face-to-face meeting with highly qualified language trainers;
Unlimited access to the digital training platform containing resources available in English, French, German, Spanish, Italian, etc.;
Business Content;
Tutorials to improve your speaking skills;
Language certificates.
Let's discover what's the best option for you. Contact me at adela.viezure@eucom.ro / 0758.089.137. ????