Take the next step! Assess your Language Level today with EUCOM!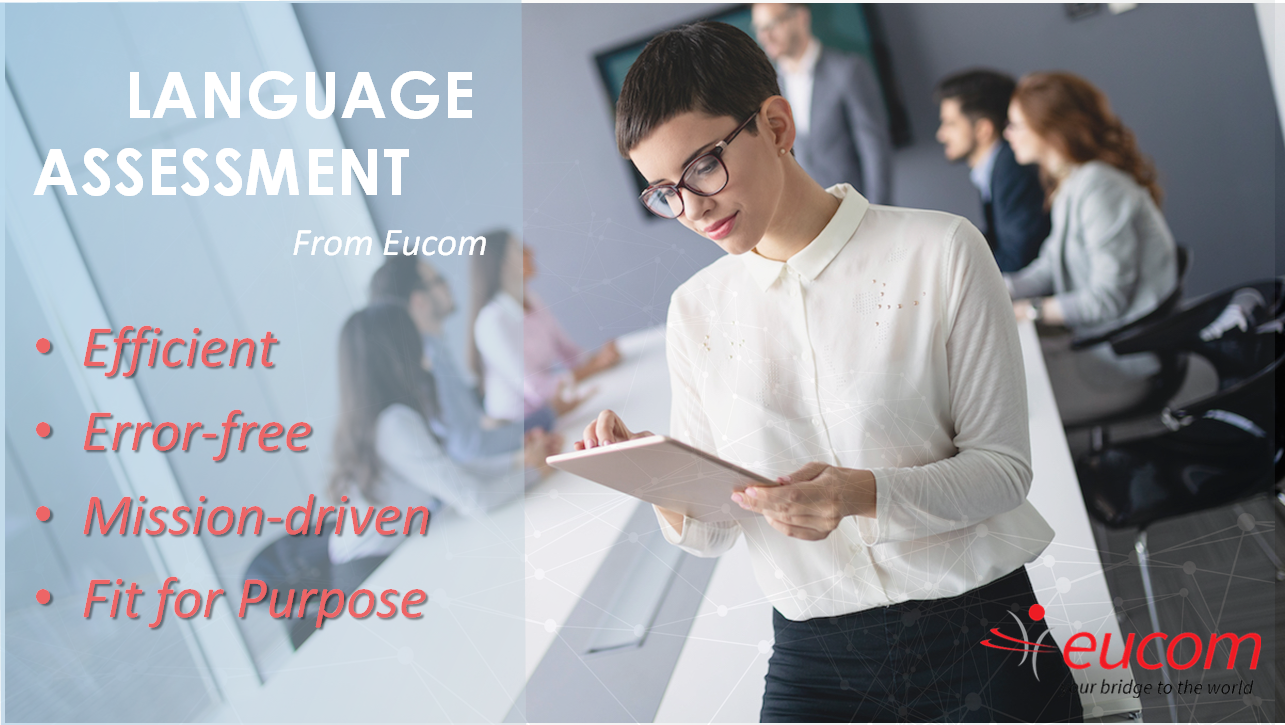 Have you been thinking about changing your job or enrolling at a university? Do you need to assess your language level today? If the answer is yes, we have the perfect solution for you. Our Language Assessment Services provides you with a Language Certificate and a detailed language report in 24h.
At EUCOM we believe improvement, partnership, and excellence get you to where you want to go. It is everyone's right to grow, whether that means getting a raise, a promotion, or a better job. As for self-improvement, clearly, you strive for excellence in everything you do. And you need to know your progress.
How we solve these issues is by providing partners with Language Assessments. For fifteen years we have delivered thousands of assessments, with over 26,000 just in the last two years. And in over 30 major languages, too, serving over 30 of the most important multinationals in Romania, Poland, the United Kingdom, and even India.
So, we know what HR managers want and can help you get hired. Speed is the name of the game. If you can go through the hiring process faster, that means you get hired first, before your competitors on the market. Managers also want to know your skill levels, in numbers and hard data. That's where our assessments also help. Lastly, we know companies want to hire candidates who stand out. What better way than to come to the negotiating table with an assessment in your hand, showing you are ahead of the curve, ready to accept their offer on the spot.
As far as international universities, many require you to demonstrate a certain English, German, or French level. Their tests are far, expensive, and take a long time. Is this how they begin a potential partnership with you, honoring you for the time and effort you invest in them? Again, avoid the hassle, and show up to the interview prepared. Know your level. Our assessments are remote, from your home office if you prefer. Also, they are affordable. Lastly, in less than 24 hours, you know your level in Writing, Speaking, and Grammar/Vocabulary.
But don't just take our word for it. Our very own assessor in Polish, Aleksandra, was very curious to learn her level in Romanian. "Why," we asked her, obviously open to offering her a full assessment, just wondering. "Because," she replied, "I study Romanian on my own, and I really want to know my level. That way, I can improve." At the end of the day, that is what these assessments are all about. They open your eyes. You can see where you stand and show you the direction for growth.
So, what now? Enjoy the article below and check out our Language Assessment Service at https://www.eucom.ro/evaluare-lingvistica/.
Don't forget to give us a call (+40.758.089.137) or email us today (office@eucom.ro). We look forward to helping you reach your goals, and being your bridge to the world ????